Sasvim neplanirano i neočekivano otkrili smo još jedan grad labirinata u Hrvatskoj. Nalazi se u Zadru koji je i inače poznat po neobičnim i lijepim projektima.
Labirinti se nalaze na prekrasnom platou pored grada a prema informaciji koju smo dobili idejni pokretač i jedan od graditelja je Živko Vegar. Nismo uspjeli doći do njega pa nemamo više informacija o gradu labirinata. Ako gospodin Vegar ovo pročita neka nam se javi.
Doznajemo i da je 21.12.2012. na dan slavnog zimskog solsticija održana proslava u labirintima.
Točna lokacija labirinata vidi se na satelitskoj karti.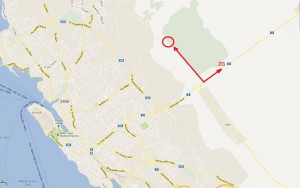 Ovo je još jedna vrijedna atrakcija koja će, vjerujemo, privući mnogo ljudi, posebice turiste kojih u Zadru ima mnogo.
Stipan Pastuović je posjetio labirinte i napravio nekoliko lijepih slika. Uživajte!
Leave a Reply
You must be logged in to post a comment.